Black History Month programs are being offered at sites throughout the county during the month of February!
Celebrate Black History Month at the Sandy Spring Slave Museum: Special programs will be held at the museum every weekend throughout the month of February. This is a wonderful opportunity to visit this unique cultural site featuring an extensive collection of historic art and artifacts in the Great Hall plus a cross-section of a slaving clipper ship, log cabin, and African arts pavilion also located on the grounds. Schedule of Events  For details visit: SandySpringSlaveMuseum.org or email: sssmevents@gmail.com.
Montgomery County Public Libraries are offering a wide variety of programs throughout the month! Black History Month at Montgomery County Public Libraries
For more events celebrating Black History Month at Josiah Henson Park, Woodlawn Museum, National Capital Trolley Museum, the City of Gaithersburg, and Great Falls Tavern Visitor Center, please check out our Calendar.
County Executive Isiah Leggett's dedication of the Buffalo Soldiers Great Hall in the Silver Spring Civic Building on February 27, 5-7pm. Details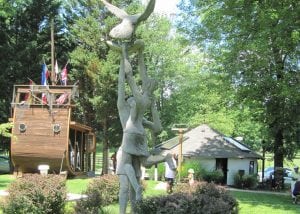 Sandy Spring Slave Museum slave clipper ship and African arts pavilion