Discover Maryland heritage foodways – the intersection of food in culture, traditions, and history – in Heritage Montgomery's new African American Heritage Cookbook.
Patterned after traditional church cookbooks, it includes historical recipes dating to the mid-1800s as well as those collected from local African American communities. Additionally, most chapters include an introduction based on the first-hand accounts of residents sharing memories from the turn of the century that were collected in the 1970s, as well as historical photographs also collected at that time.
The cookbook is available for purchase on our Gift Shop page. Profits from sales are being donated to the participating church communities to help support this important part of Montgomery County history.
To learn more about Montgomery County's historic African American communities, visit the Dig Deeper section of our website!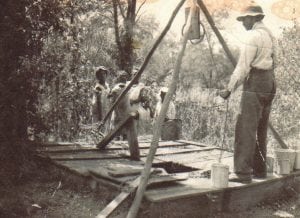 Image from the cookbook – Gathering at the Sugarland well.  Courtesy of the Sugarland Ethno-History Project.